USPS®'s Chart Smart Course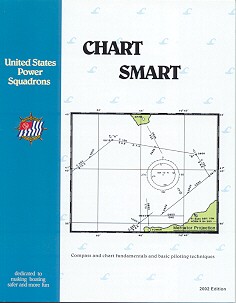 Chart Smart is a course for all USPS Boat Smart Course or America's Boating Course (ABC) graduates who are interested in information on compasses, charts, and plotting courses. It builds upon the knowledge gained in Boat Smart or America's Boating Course by covering subjects typically introduced in the The Squadron Boating Course:
Mariner's Compass
Charts
Aids to Navigation
Plotting a Course
Distance, Speed, Time
Determining Position
The purpose of Chart Smart is to teach the techniques to determine position when you are within the sight or near proximity of land. This course is designed to give the student an introduction to the subject known as Piloting. As such, it may also appeal to squadron members as a refresher prior to taking the Advanced Grade course of Piloting.

Qualified, enthusiastic, and experienced USPS instructors provide instruction as a civic service. There is never a charge for instruction; the only costs are those for materials, plus overhead costs such as classroom rental, shipping and handling, sales tax, etc.

While the content of this student manual serves as the basis for this course, it will also serve as a reference book in basic boating long after the course work is completed. USPS believes that the more educated a boater becomes, the more likely that boater will be a safe boater. Chart Smart is a continuation of boating education, and hopefully will encourage students to join USPS to follow this brief and basic course with additional boating education such as the advanced courses offered to members of the United States Power Squadrons. Your instructor can give you information about these advanced courses.
---
This page last updated on 01 April 2002. (r) United States Power Squadrons, USPS, the USPS Ensign, and the Trident Design are Registered Trademarks of United States Power Squadrons, Inc.
---